Shoyeido reopens Kyoto Main Store after renovating, and establishes base for the transmission of Japanese incense culture information.
We recently completed the renovating work of its Kyoto Main Store and will reopen on July 11th. The sukiya style of the building symbolizing the Kyoto Main Store never changes, but the size has expanded into a now-spacious room, with space in the back where visitors may enjoy seasonal events.
The adjacent building to the south side is named "Kunjyukan." It opens with space to experience Shoyeido's incense, gallery and hall -- a place to meet and mingle with fragrance, where visitors can experience Japanese incense culture.
Please enjoy a special experience with fragrance in both the reborn Kyoto Main Store and in our newborn base, "Kunjyukan."

Kunjyukan
The building was built in 1959, and has been a landmark in the area. In consideration of its historical meaning, Shoyeido has renovated it to create a base for the sharing of Japanese incense culture information, with room to accomodate many visitors.
If one burns high-quality incense regularly, then before long, the room will become scented by pleasant fragrance. The word "Kunjyu" contains Shoyeido's wishes: in the present and far into the future, Shoyeido's wish is to provide people with the enjoyment of Japanese incense. As people enjoy incense, may their lives also be filled with fragrance.
Ground floor, Koh-labo "Exploring Incense"
Koh-labo, "Exploring Incense," provides visitors with looks at incense ingredients, at fragrance as it is being created by Shoyeido's incense craftsmen, and at the scents that are close to our lives. One will find various fragrances as he or she explores the incense world.
Other activities include learning about aromatic wood, watching videos, and viewing a display showing the differences in incense manufacturing methods from years past to current times.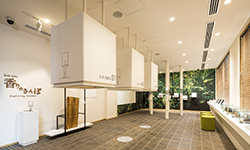 Ground floor, Shogin Lobby
The entrance of Kunjyukan is connected to the Shogin Lobby. It's a space to hold exhibitions. The public should feel free to use it while shopping, or simply as a place to take a break. The store's courtyard is visible from this space.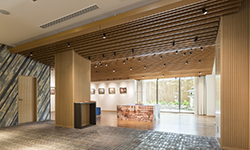 5th floor, Karani Hall
This hall was named after Shoyeido's street adress "Kara"suma "Ni"jo (Karasuma Nijo). From here, one may see views of Higashiyama, from Mount Hiei to Mount Daimonji. It is planned as a space for events and lectures, where both local residents and guests to Kunjyukan can interact.