FACTORY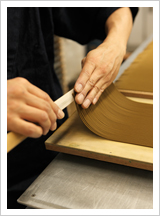 Shoyeido's production facilities are comprised of two locations - one is a traditional workshop for handmade items, and the other is a state-of-the-art manufacturing plant. Our handmade incense is blended in our downtown headquarters in Kyoto, where skillful craftsmen create incense according to traditional recipes and methods. Our factory resides in the southwestern section of town, where modern methods of mass production are combined with expertise in hand-craftsmanship that has been refined over 12 generations.
FRAGRANCE FACTORY TOUR
Visit our factory and main store to learn how our highly skilled artisans make Shoyeido's traditional Japanese incense products. Take a tour of our natural incense ingredients in natural states.
We require at least one week's notice of your desire to schedule a tour. To make a reservation, please provide detailed answers to the following questions and send them to us by email at:
incense@shoyeido.co.jp
Please send this information at least one week prior to your preferred tour date.
Name
Number of participants
Visiting date and time
Purpose of tour (if possible)
Factory tours are available as follows:
Monday - Friday (except for national holidays)
10 a.m. - 12 p.m.
1:30 p.m. - 3 p.m.
Duration of tour: Approximately 30 minutes
Important information on factory tours
Due to high demand, it is not always possible to arrange a tour on the day and time of your preference.
Photography:
Photography is not permitted in the factory.
Address:
SHOYEIDO INCENSE CO.
Karasuma Nijo, Nakagyo-ku, Kyoto 604-0857
Tel: 81-75-212-5590